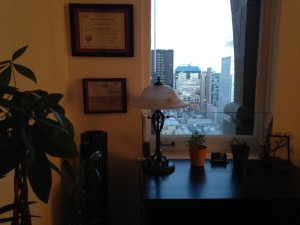 Sometimes starting therapy can bring up confusion (how do I know which therapist to choose?) and concerns (will this be worth the financial and time investment?). Since I strongly believe that the most important part of treatment is the relationship between therapist and client, I would be happy to do a 15-minute phone consultation with you, free of charge. A phone consultation is an opportunity for you to tell me about what brings you to therapy, learn a little more about me and how I work and if it fits with your idea of therapy, and discuss fees and scheduling options. I can also help refer you to other therapists whose work I strongly respect if it appears someone would be a better fit for you. Feel free to message below, or give me a call at (650) 762-9220. I'd love to hear from you!
My Offices
I see clients both face-to-face and online. My offices are in the Flood Building in Union Square and in the Hobart Building in the Financial District in Downtown, San Francisco. Both are within minutes from the Bart and Muni Stops, and are handicap and bike accessible with bike storage. The best parking garage for the Union Square office is the Ellis Street Parking Garage. Below are the maps of my offices:
My Fee: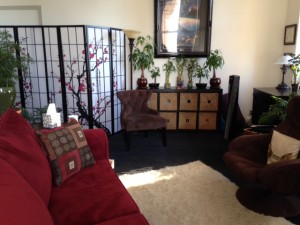 15-minute phone consultation free of charge
Individual                  $150
Couples                      $160
Sliding Scale:
A handful of openings are set aside for people who need a fee reduction. If I am a good fit for you on your search for a therapist and if you qualify for a fee reduction, I would be happy to work with you to get the therapy you want despite financial constraints. Please contact me for details.
Online Therapy
For California residents who would prefer to meet remotely, I do offer HIPAA compliant teletherapy options via video conference or on the phone.
Insurance / Out-of-Network Reimbursement
I am not currently on any insurance panels but I am an "out-of-network provider" and do provide invoices, or "superbills" for you to give to your provider to submit for reimbursement. Please check in with your provider first.
Here are some questions to ask:.
Do they accept out-of-network providers?
How much of the fee will be reimbursed? This is usually between 40 -80% of the session fee.
NOTE: If they will cover a percentage of the "allowed fee" and use that term ("allowed fee"), ask how much the allowed fee is. We often think it means the full fee, but often it can be much lower. For instance, the "allowed fee" may only be $80 so if they cover 30%, you will only be reimbursed $24 per session
If you have a deductible to meet, and how much that is
If the full fee of individual sessions go towards the deductible or only a percentage go towards the deductible (for instance, some insurance companies only allow 30% of the fee to go towards the deductible, resulting in several sessions needed to meet the deductible)
Email or call for a 15-minute phone consultation at no charge
Offices are located in Union Square and the Financial District in San Francisco