Compassionate Grief Therapy in San Francisco, CA
"The most beautiful people we have known are those who have known defeat, known suffering, known struggle, known loss, and have found their way out of the depths. These persons have an appreciation, a sensitivity, and an understanding of life that fills them with compassion, gentleness, and a deep loving concern. Beautiful people do not just happen." ~ Elisabeth Kübler-Ross
Grief and loss comes in many forms. It may be a separation or divorce, the loss of a spouse, a child, a parent, a friend, a job, or a beloved pet. It can even show up abruptly after years of repressing it. From my own experience of losing my father at a young age, I have learned that giving yourself the space and permission to fully grieve your loss is a precious and necessary step towards healing. It can also catalyze a deep respect for impermanence and unconditional love and appreciation for the relationships we do have. Grief comes in many shapes and forms. Sometimes despair, sometimes anger, longing, loneliness, or even pangs of guilt. There is no set amount of time it takes to get over a loss; the best we can do is to gently turn towards it and see what emerges.
Books can be loyal companions when one is mourning a loss. Here are a few that I strongly recommend:
The Wild Edge of Sorrow by Francis Weller
How to Survive the Loss of a Love by Peter McWilliams, Harold Bloomfield, M.D., Melba Colgrove, Ph.D
Remember the Secret by Eisabeth Kübler-Ross (for children)
The Fall of Freddie and the Leaf by Leo Buscaglia (for children)
I also have a guided meditation for grief that you can find here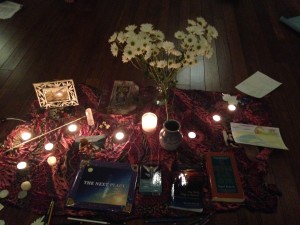 This photo was taken from a Grief & Yoga Workshop facilitated in November 2015
"People are like stained-glass windows. They sparkle and shine when the sun is out, but when the darkness sets in, their true beauty is revealed only if there is a light from within." ~ Elisabeth Kübler-Ross
When books aren't enough, or if you need more support in grieving your loss, therapy can be powerful. It is a safe space where you get to talk through your grief when everyone around you has moved on- and you are feeling alone and stuck in your process.
Email or call for a 15-minute phone consultation at no charge
Office located in Union Square, San Francisco